Inlägget postat av: Ilonka on January 5, 2020
---
Hi Ladies,
I,m back with my second card for today.
I always love to make baby cards, There to cute !!
I used Stamp V686.
This time I used my Faber Castell Polychrome pencils.
The numbers are:
Cinnemon 9201 – 189,
Venetian red 9201 – 190
I hope that you loved my cards and I hope to see you next time too.
Enjoy your day…
Big hugs Ilonka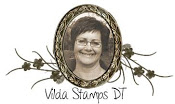 This post is posted by Ilonka